About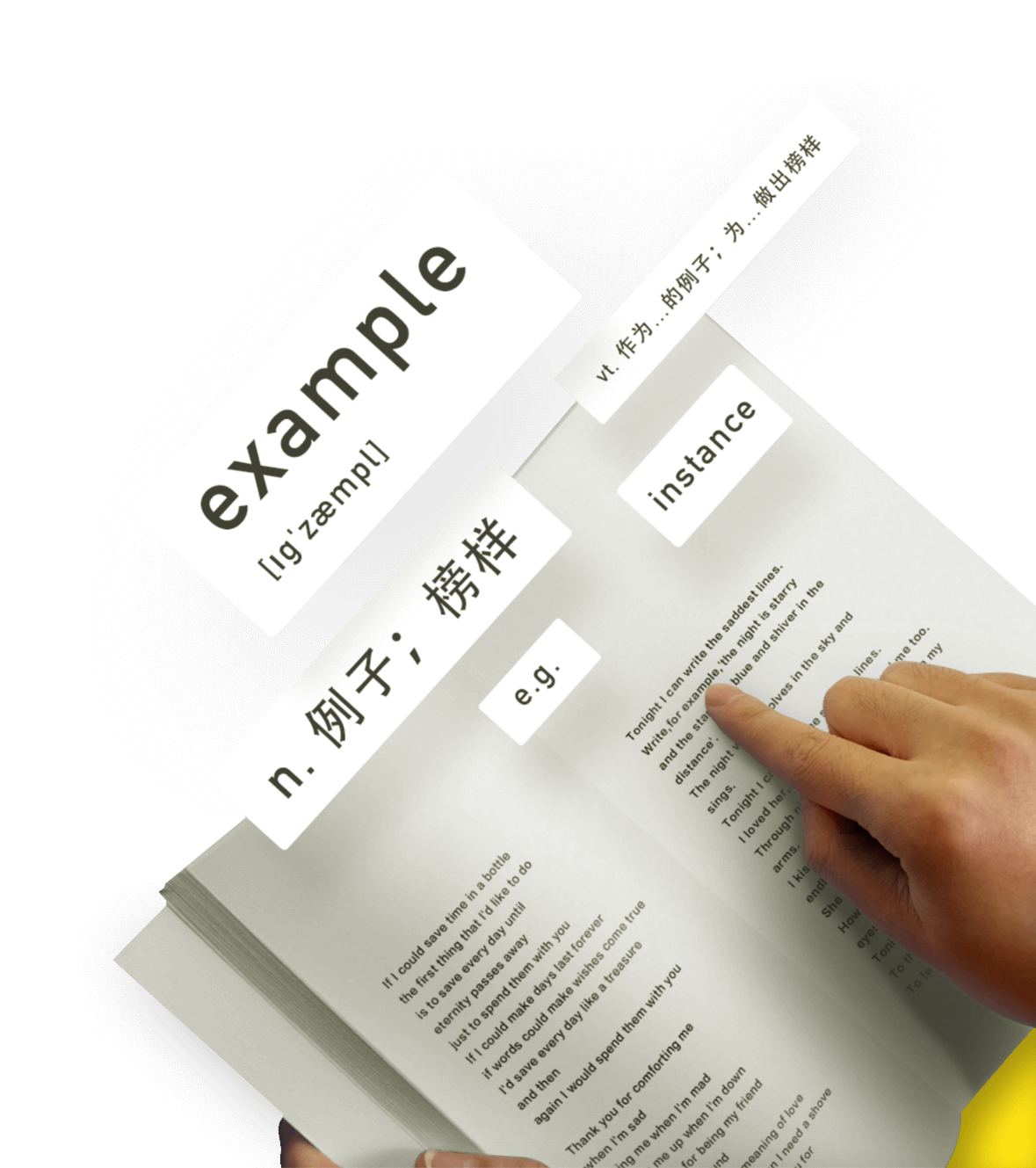 Lighten AI
In 2018, Lighten AI put forward an idea that integrates a camera, artificial intelligence recognition technology and a display screen to translate English words in the book. When learning, users point finger to a word, they can get translations and pronunciations. Zaiye was commissioned to design a new solution of interaction for this new product.
Design strategy
When you open a book to study, reading and thinking are a continuous process; but when using traditional tools such as translation software and dictionaries, you have to switch between objects, which interrupts the flow of reading. Therefore, we have initially formulated the two design strategies below:


Combined with natural gestures, without thinking about function switching
When people are reading,  looking and thinking, the another common behavior is pointing word or drawing under text. Therefore, we mainly use this type of natural gestures as the main research target. The purpose is to let the mind focus on learning instead of operating.


Complete the main tasks in the book, reduce screen interaction
Reduce the "interruption" of frequently switching between book and screen,  which allow a natural and smooth immersive reading learning experience to occur.

Product prototype research
We have produced a paper prototype that invites target users to experience simulated future products in a real environment to help define and innovative products. When experiencing products, we recorded the different and common behaviors from different age groups when using products.

Sentences and illustrations are common needs across ages

Our research found that elementary and high school students like illustrations and example sentences. Visualized examples can help users understand word efficiently.

Single finger point and draw are intuitive gestures for reading

When searching for words, users often use a finger to let the desk lamp know which word to look up. When reading and translating a long sentence, underline is used invariably.

Differentiated content displayed by different groups of people

We found that primary school students pay more attention to the correct pronunciation, while junior and senior high school students pay more attention to the passive voice and the fixed combination of words.
Gestures on the book
Simply click on the book to search for words; when a certain word in a sentence is crossed by a finger, the reading and translation function is activated, and the entire sentence is read out; two fingers swap up and down anywhere on the book can remotely control the screen to browse information and switch functions.